Overview:
Have you recently had trouble with your hearing? Or are you looking to determine the cause and type of your hearing loss? A hearing aid evaluation with our trained health professionals might be just what you need for overall wellness. Here's what you should know about a hearing aid evaluation.
What is a Hearing Aid Evaluation?
One of several forms of treatment that exists for people experiencing hearing loss, a hearing aid is a specialized electronic device that can be worn either inside or behind the ear. It works by amplifying sounds, so they are louder, offering patients with hearing loss the ability to hear clearly on a daily basis. Before a patient can get fitted for a hearing aid, a hearing aid evaluation is recommended. This helps determine the amount of hearing loss a patient is currently experiencing and whether a hearing aid is necessary to manage their hearing disorder.
What Are the Benefits of a Hearing Aid Evaluation?
There are multiple benefits to having a hearing aid evaluation. First off, they help determine whether the hearing loss is temporary or permanent, which in turn will help determine the mode of treatment to be taken, including any additional diagnostic tests.
Hearing aid evaluations are carried out by certified and licensed audiologists or otolaryngologists (ear, nose, and throat physicians) who are specially trained. There are two types of hearing aid evaluations:
an audiological examination, which is a non-medical evaluation that helps to identify whether your hearing loss is temporary or permanent, as well as provide a rehabilitation-focused treatment plan to manage symptoms.
a medical examination, carried out by an ENT specialist or licensed physician to determine if your hearing loss is caused by a medical reason such as ear wax buildup, injury, or an infection.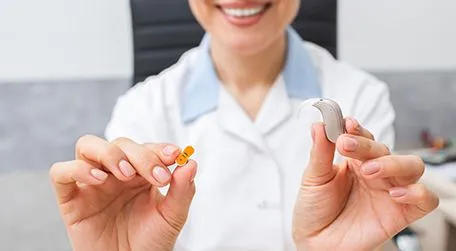 What to Expect During Your First Hearing Aid Evaluation
You might be wondering what to expect if you've never been to a hearing aid evaluation before. A trained physician or licensed audiologist at Reuhl Audiology will begin by asking a detailed set of questions to determine your current health status. From there, a comprehensive audiological evaluation is conducted, which may include several diagnostic tests such as tympanometry, otoacoustic emission (OAE) testing, and speech audiometry, as well as inner ear impressions and tests for frequency-specific loudness discomfort. Your audiologist will recommend a hearing aid that's right for you based on your communication needs and the degree to which you may be experiencing hearing loss.
For more information about a hearing aid evaluation, contact Reuhl Audiology at (630) 230-2373.